+44 (0) 1223 830090
info@dhsupport.com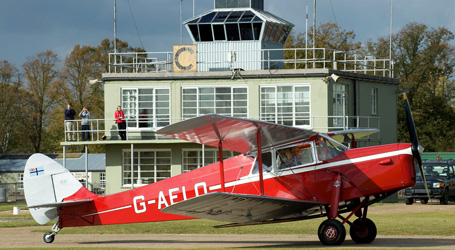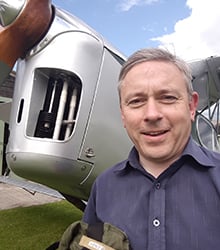 About Us
de Havilland Support Ltd (DHSL)
DHSL was founded in 2000 to deliver Continuing Airworthiness services - on behalf of BAE Systems plc - as the formal Type Design Organisation (TDO) for civil-certificated de Havilland legacy aeroplanes. This fleet included at that time types such as the Gipsy Moth, Tiger Moth, Dragon Rapide, Chipmunk, Dove and Heron. In later years the Beagle Pup and Scottish Aviation Bulldog were added. DHSL has throughout been based in ideally period office accommodation at the Imperial War Museum's historic Duxford Airfield in Cambridgeshire.
Operating since April 2001 under a UK Civil Aviation Authority (CAA) E1 and E2 design approval, DHSL has now transitioned to the combined Design and Production system of British Civil Airworthiness Requirement (BCAR) Section A8-21.
Moreover, on 31st March 2012 DHSL voluntarily rescinded its long established TDO status to enable UK owners to have the option of adopting Permit to Fly certification. For the most numerous and commercially viable Tiger Moth, Dragon Rapide, Chipmunk and Bulldog types, a CAA/DHSL Type Responsibility Agreement now allows the retention, where desired, of a Certificate of Airworthiness and its associated privileges.
The company was formed by de Havilland enthusiasts Stuart McKay (now retired) and former CEO, the late Bill Taylor (tribute), who were joined at commencement by current Chief Engineer and Accountable Manager, Mark Miller.
Chief Engineer & Accountable Manager – M J Miller BSc(Eng) PhD FRAeS
Mark Miller (pictured) flew model aircraft on the disused Duxford airfield in the early 1970s and later joined the Duxford Aviation Society. He traces a long-held enthusiasm for British pre-war civil light aircraft to childhood sightings of a beautiful Gipsy Moth on a Cambridge garage forecourt. This interest led directly to participation in the long-term restoration of a Dragon Rapide, owned jointly by Mark and his father for over 25 years and first flown from Duxford in 2004. Mark learned to fly entirely on vintage aeroplanes, going solo on a Tiger Moth at Cambridge in 1981 and completing his PPL in the relative comfort of an Auster Autocrat. After 'A' Levels, Mark studied for a degree in Mechanical Engineering at University College London. He followed this up with postgraduate research on automotive spark ignition engines for a PhD, and worked thereafter on contract to the Ford Motor Co. and others. Eventually the lure of aviation overcame all financial logic when in 1996 Mark went to work as a civilian for the RAF at Wyton. Specialising in aircraft structures, Ageing Aircraft issues and Reliability Centred Maintenance, he was a member of the Structural Integrity Working Groups for Canberra, Jetstream, Nimrod, RAF Gliders, and (fortuitously) the Scottish Aviation Bulldog.
Mark was for many years partner in a small M3 maintenance organisation, is an Inspector of Vintage types for the Light Aircraft Association (LAA) and the holder of CAA engineering licences in categories A, B, C and X. He has flown over 1,500 hours on Gipsy and Cirrus-powered types, owns his own DH87B Hornet Moth (depicted above), also DH85 Leopard Moth and DHC-1 Chipmunk projects, and regularly displays light aeroplanes at the Duxford events. Mark's involvement in DHSL has been a happy - if arduous - progression of his long-term interests and later RAF experience.
Deputy Chief Engineer – J C Tempest BEng(Hons) MRAeS
From a flying family, John Tempest's first flight was at the age of three and he has been surrounded by aircraft ever since. His employment in the aircraft industry began as an undergraduate trainee with British Aerospace at Woodford, following which he completed an Aeronautical Engineering degree at Loughborough University. There then followed a four-year BAe-sponsored research project at Cranfield University, experimenting with the use of carbon composites in highly loaded airliner wing structures.
In 1996, John moved closer to his major enthusiasm for sporting and vintage aircraft by taking up a position with the then Popular Flying Association as Deputy Chief Engineer, responsible for the approval of new aircraft designs, modifications and continued airworthiness activities on a fleet of 2000 flying aircraft and 1500 homebuilt projects.
John's now part-time employment with de Havilland Support Ltd has taken him from the world of homebuilt and vintage aircraft, maintained purely on Permits to Fly, into the realm of Type Certificated aircraft operating on ICAO compliant Certificates of Airworthiness, with their corresponding procedures. He is also now working on a consultancy basis for a number of UK warbird operators.
In his spare time John has been involved in a number of aircraft projects including the rebuild of a Steen Skybolt and a Pitts S-2B aircraft, both of which he now operates as a syndicate member; he is currently working to complete his Pitts S-1S homebuilt aircraft project. John obtained his PPL in 1987 flying a variety of aircraft including de Havilland Chipmunks and Tiger Moths.
Support Engineer – D R Puleston
Dave Puleston has maintained a life-long interest in aeroplanes and seizes every opportunity to immerse himself in the world of vintage and sport aviation. With his enthusiasm fuelled by a first flight at the age of eight and aerobatics in a Chipmunk a few years later, he began flying gliders at RAF Marham as a member of the Air Training Corps. He craved more powered flying and began working part-time at the Norfolk and Norwich Aero Club, Swanton Morley. This led to a management position with the club on completion of A-Level exams and the issue of a Private Pilot's Licence in 1993, at the age of 17. Dave also gained extensive practical experience maintaining and inspecting the Club's aeroplanes.
Keen to increase his engineering knowledge and flying experience, Dave has worked subsequently at busy M3 maintenance organisations, inspecting, repairing and rebuilding a variety of aeroplane types. He has also volunteered for The Fighter Collection at Duxford. Dave joined de Havilland Support Ltd in 2004 following several years working for VT Aerospace at RAF Wyton, a JAR 145 organisation contracted to supply flying training for the RAF. He has flown more than 60 types of light aeroplane and holds a CAA Display Authorisation in numerous categories. Not content with engaging in aviation activities for a day job, Dave is co-owner of a Pitts S-1D as part of the Trig Aerobatic Team, and is also now flying and displaying one of the Duxford-based Spitfires.
Our Photographers
We are most grateful to the kind photographers who have allowed their images to be used on our website: Mick Bajcar, Jenny Coffey, Richard Collins, Darren Harbar, Steve Homewood, Simon Thomas, David Whitworth. Also the Imperial War Museum, Duxford.