+44 (0) 1223 830090
info@dhsupport.com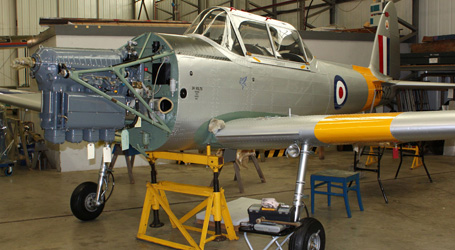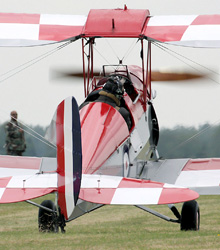 What's New
Tiger Moth Tie Rods – Ongoing Actions
Following publication of the Australian Transport Safety Bureau report into the in-flight break-up of Tiger Moth VH-TSG, work is underway within DHSL to address the final recommendations of the report. This work is being developed in consultation with other organisations such as the UK Civil Aviation Authority and the Light Aircraft Association.
It is likely that the following new Technical News Sheets (TNS) will be issued:
TNS 31 – Inspection After Heavy Landing
TNS 47 – Tiger Moth Operation and Usage
TNS 48 – Fuselage Joint 'H' – Special Bolts
It is likely that the following TNS will be revised substantially:
TNS 29 – Fuselage Tie Rods – Installation, Lifing and Inspection [Now written for Tiger Moth only]
Whilst yet to be agreed with the UK CAA, Airworthiness Directives are likely to apply to the following TNS:
TNS 29; 47; 48 [TNS 31 by cross reference from TNS 29]
Tiger Moth VH-TSG – Accident Report Published
Australian Tiger Moth VH-TSG suffered an in-flight break-up in December 2013 and the Australian Transport Safety Bureau (ATSB) final report has now been published. This comprehensive report can be viewed or downloaded from the ATSB website at the following link: http://www.atsb.gov.au/media/5750718/AO-2013-226%20final.pdf
Chipmunk VH-UPD – Accident Report Published
Australian Chipmunk VH-UPD suffered a loss of control and collision with the ground in June 2014 and the Australian Transport Safety Bureau (ATSB) final report has now been published. This comprehensive report can be viewed or downloaded from the ATSB website at the following link: http://www.atsb.gov.au/media/5768080/ao-2014-114_final_report.pdf
Dragon Rapide Fire Precautions
It is exactly 60 years since the de Havilland Aircraft Company first issued a Technical News Sheet to advise on how best to mitigate the fire risk associated with starting the Gipsy Six or Queen engines in Dragon Rapide aircraft. A much augmented TNS CT(89) No.17, Issue 2 was published on 1st July. All DH89A operators and pilots are urged to make themselves familiar with the issues concerned. A free download of this particular TNS is therefore available on our Multi-engined page.
Tiger Moth Tie Rods and Nuts
Our previous scaling of Tiger Moth tie rod and nut new manufacture was based on the progressive calendar life expiry of these items over the next few years. The entire withdrawal of all J&R Aerospace rods was clearly not a foreseeable event. Large quantities of new manufacture tie rods and nuts have nonetheless been despatched worldwide during recent months. As of mid-July 2014 the NDT and cadmium plating of the next batch of tie rods is well in hand. Tie rod nuts are in stock and the arrival of Joint "H" special bolts, for our incoming inspection, is expected imminently. Further tie rod requirements should be notified as soon as possible to info@dhsupport.com.
Tiger Moth Emergency Airworthiness Directive
The preliminary ATSB report on the in-flight break-up of DH82A VH-TSG has identified a safety issue with the PMA origin fuselage tie rods which were fitted to that aircraft. A substantial number of these tie rods were manufactured, principally for Australia and New Zealand, although a few have now been identified on imported Moth types in England. As airworthiness authority for the DH82A's State of Design, the UK CAA issued Emergency Airworthiness Directive (AD) G-2014-0001-E on 21st March 2014.
AD G-2014-0001-E requires the immediate attention of all Tiger Moth owners. Aerobatic flight is prohibited until it has been verified that the installed fuselage tie rods are of acceptable provenance and are within their mandatory safe life and calendar life. This activity must in any event be completed within 10 flying hours.
Compliance with the subject AD should in many cases be possible by a desktop review of aircraft maintenance records and retained release documentation. Physical inspection is not necessarily required. However, please note that formal logbook sign‑off - by an appropriately qualified certifying person - is essential to close the AD action.
Sad Events in Australia
We continue to receive enquiries from all over the world following the mid-air breakup of DH82A Tiger Moth VH-TSG in December 2013. Preliminary findings are already in the public domain on the Australian Transport Safety Bureau (ATSB) website. DHSL is assisting ATSB as required. At this stage there seems no reason to doubt the structural integrity of DH82A aircraft in general.
Separately, a PZL Mielec M18A Dromader agricultural and firebombing aircraft has suffered an in-flight failure of its cantilever wing. We commend the ATSB's preliminary report to all who would assert that the Chipmunk and Bulldog airframes are 'over-engineered', or that mandatory scrutiny of fatigue aspects is unwarranted.
New TNS published September 2013
Tiger Moth and Chipmunk subscribers have been sent TNS updates to cover some new topics:
TNS CT(MOTH) No. 44 describes every aspect of the Tiger Moth Fuel System. It responds to evidence that engine power losses are often traceable to inadequate understanding of what might appear to be very simple fuel system features.
TNS CT(C1) No. 209 notifies all concerned that an early alloy design of tailplane attachment fitting, Part No. C1-FS-453, has been found with multiple cracks. While looking into this problem some recurring issues of misassembly were highlighted. TNS 209 was mandated on 2nd October 2013 by the UK CAA, Airworthiness Directive G-2013-0002 refers. Fitment of steel brackets Part No. C1-FS-1499 is the optimum corrective action. These and associated packing plates C1-FS-1529ND are available if required from the DHSL Shop.
DHSL Introduces On-line Shop
de Havilland Support Ltd is pleased to announce the opening of its on-line shop for the supply of spare parts and publications. The initial capability covers approved aircraft spares and some special publications. Over coming months the range of goods available through on-line purchase will be expanded to cover the complete range of publications and also subscriptions to our Continuing Airworthiness Service (CAS) and Type Responsibility Agreements (TRA).
During 2013 we expect to significantly expand the range of approved spare parts available for the principal aircraft types we support, especially the Chipmunk and the Bulldog.
Chipmunk Wing Bolts & Links – Current Availability
The previous problems we experienced with the supply of new manufacture Chipmunk wing attachment bolts have now been overcome and we hold sufficient stock - released on CAA Approved Certificates - to meet all foreseen requirements. Price details are at our on-line shop. The items concerned are:
| | | |
| --- | --- | --- |
| C1-W-491 | Bolt Joint D (qty two required per aircraft) | |
| C1-W-493 | Link Plate (qty four required per aircraft) | |
| C1-W-495 | Bolt Joint E (qty four required per aircraft) | |
The following additional items are available (released on Certificate of Conformity):
| | | |
| --- | --- | --- |
| A27-NS | Slotted Nut | |
| C1-W-937 | Laminated Shim | |
The following fitting tool is available to assist with the installation of new bolts:
| | | |
| --- | --- | --- |
| C1-Y-165 | Bullet-nose tool | |
Note that subscribers to the DHSL TRA are entitled to 20% discount on website prices. Subscribers to the DHSL CAS, for the aircraft type concerned, are entitled to a 10% discount.
Carriage is payable at cost.
UK CAA Publishes Information Notice
Following de Havilland Support Ltd's announcement on 2 December 2011 that it intended to rescind the Type Certificates for its portfolio of aircraft, the UK CAA has now issued Information Notice reference IN-2012/051 to highlight the regulatory implications which stem from this action.
The Information Notice can be accessed on the UK CAA website here:
www.caa.co.uk/docs/33/InformtaionNotice2012051.pdf
UK CAA Publishes Chipmunk Fatigue AD
The UK CAA has published its Airworthiness Directive AD G-2012-0001 which mandates Issue 6 of Chipmunk TNS CT(C1) No 138. [Long-standing AD 2804 PRE 80 already gave effect to DHSL's December 2011 up-issue of TNS 138, but raising a new AD has allowed consultation and highlights the fact that a new TNS has been issued]. Compliance with the first (documentation) aspects is required by 31 March. The UK CAA AD is now available on the UK CAA website:
www.caa.co.uk/docs/33/20120315UKADG20120001.pdf
Type Certificates for DH and Bulldog aircraft to be rescinded
Fundamental changes are about to occur to the way in which type design support is provided to the range of aircraft under the responsibility of de Havilland Support Ltd (DHSL). These changes take effect from 1st April 2012 and will allow UK-registered aircraft to be operated on a Permit to Fly.
The UK CAA has recently determined that for so-called 'orphan' aircraft types (those for which there is no Type Certificate Holder (TCH) it may now be admissible to operate either on a Certificate of Airworthiness or a Permit to Fly, at the discretion of the aircraft owner. The pre-condition of the UK CAA is that orphan aircraft may only be granted a Certificate of Airworthiness if an acceptable organisation has entered into a CAA Type Responsibility Agreement (TRA) to oversee the continued airworthiness of those aircraft. Conversely, if there were to be no TCH and if no TRA could be arranged, then all aircraft of the type would be obliged to operate on a Permit to Fly. This would curtail all operation for valuable consideration, such as flying training in a club environment or pleasure flying.
For many of the aircraft types supported by DHSL, it is increasingly unrealistic and disproportionate for them to follow all the maintenance protocols now implied by a UK CAA Standard Category Certificate of Airworthiness. Migrating these aircraft types to a Permit to Fly would offer their owners a more viable route to sustaining the airworthiness of their aircraft.
Agreement has therefore been reached with the UK CAA for DHSL to relinquish its responsibilities as a TCH and to take out a TRA for the Tiger Moth, Dragon Rapide, Chipmunk and Bulldog only. This will allow the owners of aircraft types covered by the TRA to elect to operate on the form of certification which best suits their operational requirements.
All other aircraft types previously supported by DHSL will no longer be eligible for the grant of a UK Certificate of Airworthiness and must transfer to a Permit to Fly. The Permit to Fly may be supervised by the UK CAA or the Light Aircraft Association (LAA) at the discretion of the owner, except that in the case of the multi-engined types being orphaned (Dragon, Dragonfly, Dove and Heron) only a CAA-supervised Permit to Fly will be available.
Unfortunately, to ensure our ongoing presence in support of the certificated aircraft, an annual TRA membership fee will become payable by commercial and other operators who require a Certificate of Airworthiness to allow operation for valuable consideration or unhindered operation overseas.
It is anticipated that the UK CAA will issue an Information Notice to define the regulatory implications of the DHSL actions, and the transition arrangements. Before the date of implementation it will be necessary for owners of only the Tiger Moth, Dragon Rapide, Chipmunk and Bulldog aircraft to declare what their future certification basis will be.